Due to the threat and scale of the SARS CoV-2 virus epidemic in Poland, employees of the PKF Consult Group have taken a number of actions to ensure the constant implementation of all services for our clients. Taking care of our and Your safety - all PKF experts are available to You remotely. We implement our services and projects without any obstacles while maintaining the highest standards of security and data confidentiality. Our IT systems and tools operate without access interruption. We remain invariably/constantly at your disposal, offering support in this complex business situation.
We encourage You to contact our experts!
Prepared by PKF Experts - entrepreneurs toolkit: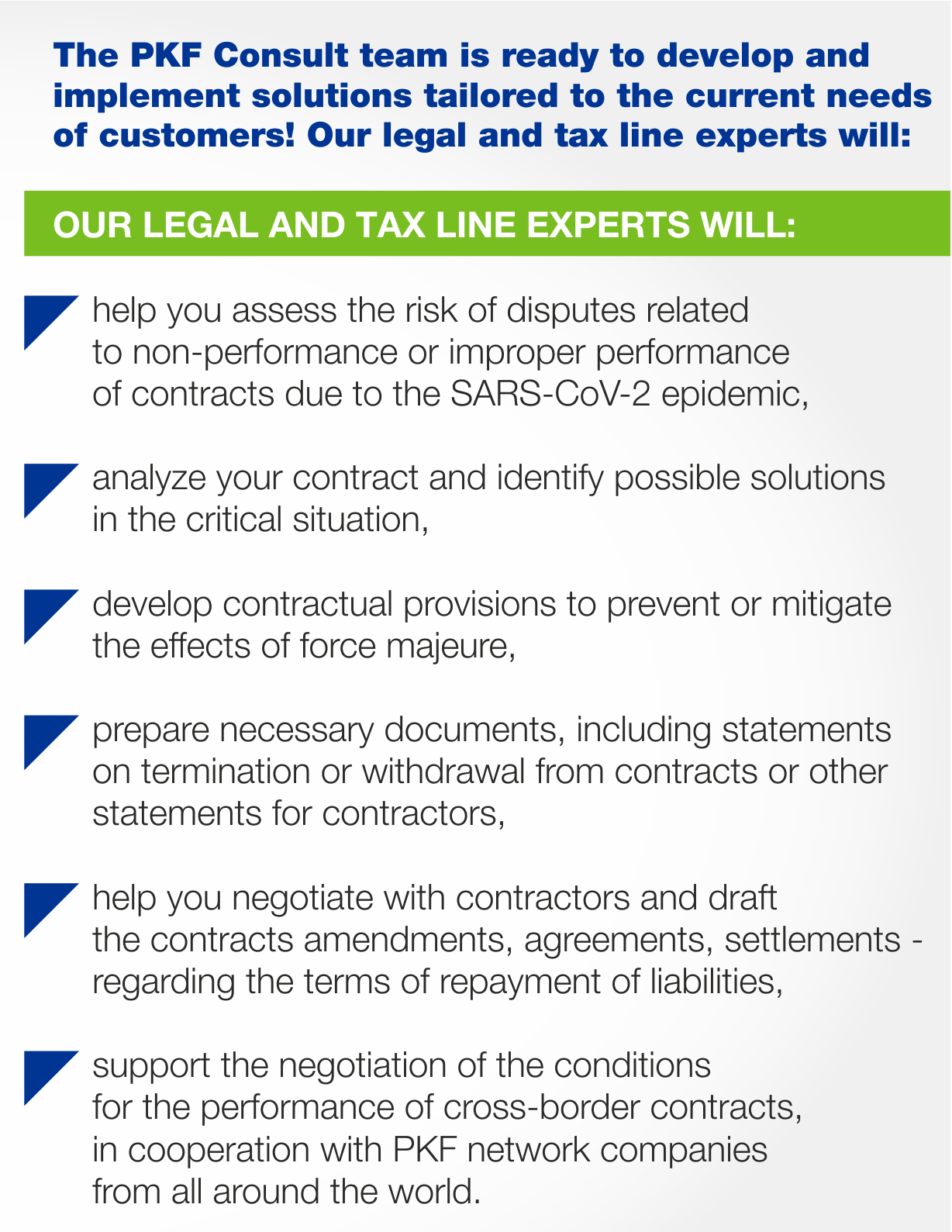 Contact with Us
PKF News
News, alerts, and events - Useful, last-minute information.
Administratorem Pani/Pana danych osobowych, w zależności od przedmiotu zapytania ofertowego, będzie PKF Consult Sp. z o.o. Sp. k., PKF BPO Sadowska – Malczewska Sp. z o.o. Sp. k., PKF Tax&Legal Chamera Orczykowski Sp. k. lub Consult Sp. z o.o., wszystkie z siedzibą przy ul. Orzyckiej 6/1B, 02-695 Warszawa. Pani / Pana dane będą przetwarzane w celu obsługi zapytania ofertowego stanowiącego przedmiot uzupełnionego formularza. Uzupełnienie informacji oznaczonych jako fakultatywne stanowi zgodę na przetwarzanie Pani / Pana danych osobowych, wyrażoną poprzez jednoznaczną czynność potwierdzającą. Zgodę można wycofać w dowolnym czasie. Wycofanie zgody nie wpływa na zgodność z prawem przetwarzania dokonanego przed jej wycofaniem. Dla celów dowodowych Administrator prosi o wycofywanie zgody drogą pisemną na adres siedziby Spółki lub elektroniczną pod adres iod@pkfpolska.pl.Więcej informacji na temat przetwarzania danych osobowych, w tym o przysługujących Pani / Panu prawach oraz o danych kontaktowych Administratorów, znajduje się w naszej Polityce Prywatności.
Thank you for your trust! Your address has been saved in our database.>