Wirtschaftsprüfung

Als einer der führenden Wirtschaftsprüfungsgesellschaft bieten wir eine vollständige Palette von Dienstleistungen die mit Finanzprüfung und Finanzberichtsprüfung verbunden sind.

Steuerdienstleistungen

Unsere Leistungen auf dem Gebiet der Steuerberatungsleistungen ermöglichen unseren Kunden entsprechende Entscheidungen zu treffen. Wir vermeiden das Steuerrisiko das mit Transaktionen verbunden ist mit Hilfe von Verrechnungspreisdokumentation.

Beratungsdienstleistungen

Mit Hilfe unserer Finanzberatung Dienstleistungen, vermeiden Sie Risiken und Probleme innerhalb des Unternehmens. Wir bieten strategische Beratung für Unternehmen, Business-Due Diligence und stellen Schätzungen sowie Beratung bei Fusionen Durchführung und Übernahmen an.

Buchhaltung und Outsourcing

Sie bekommen Unterstützung von einem erfahrenen Partner in laufenden Personalabrechnung. Das gibt Ihnen eine Garantie der Sicherheit und Vertraulichkeit der übertragenen Daten.

Schulungen

Wir führen eine umfassende Ausbildung in Finanzen, Management, Steuern, PPP und Zuschüsse im Rahmen der EU-Strukturfonds.
Adresse
Orzycka 6 Strasse lok. 1B
02-695 Warschau

tel.: +48 22 560 76 50
fax: +48 22 560 76 63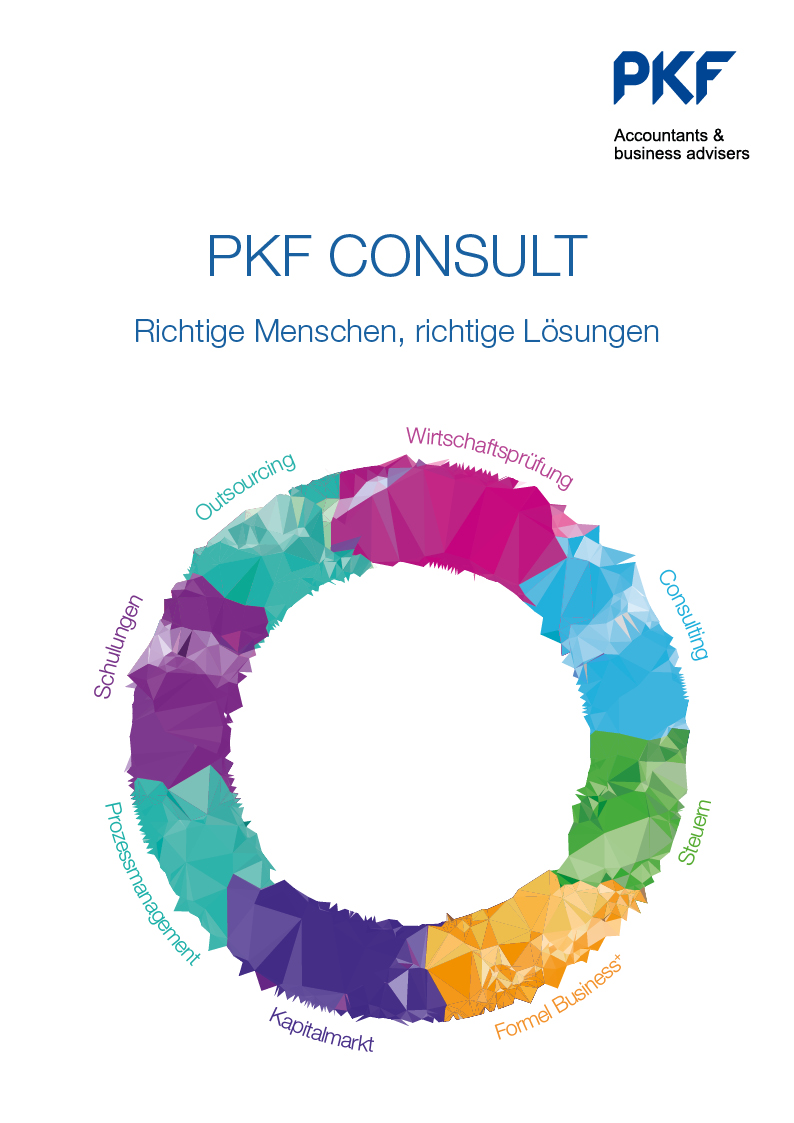 Contact with Us
PKF News
News, alerts, and events - Useful, last-minute information.
Administratorem Pani/Pana danych osobowych, w zależności od przedmiotu zapytania ofertowego, będzie PKF Consult Sp. z o.o. Sp. k., PKF BPO Sadowska – Malczewska Sp. z o.o. Sp. k., PKF Tax&Legal Chamera Orczykowski Sp. k. lub Consult Sp. z o.o., wszystkie z siedzibą przy ul. Orzyckiej 6/1B, 02-695 Warszawa. Pani / Pana dane będą przetwarzane w celu obsługi zapytania ofertowego stanowiącego przedmiot uzupełnionego formularza. Uzupełnienie informacji oznaczonych jako fakultatywne stanowi zgodę na przetwarzanie Pani / Pana danych osobowych, wyrażoną poprzez jednoznaczną czynność potwierdzającą. Zgodę można wycofać w dowolnym czasie. Wycofanie zgody nie wpływa na zgodność z prawem przetwarzania dokonanego przed jej wycofaniem. Dla celów dowodowych Administrator prosi o wycofywanie zgody drogą pisemną na adres siedziby Spółki lub elektroniczną pod adres iod@pkfpolska.pl.Więcej informacji na temat przetwarzania danych osobowych, w tym o przysługujących Pani / Panu prawach oraz o danych kontaktowych Administratorów, znajduje się w naszej Polityce Prywatności.
Thank you for your trust! Your address has been saved in our database.>