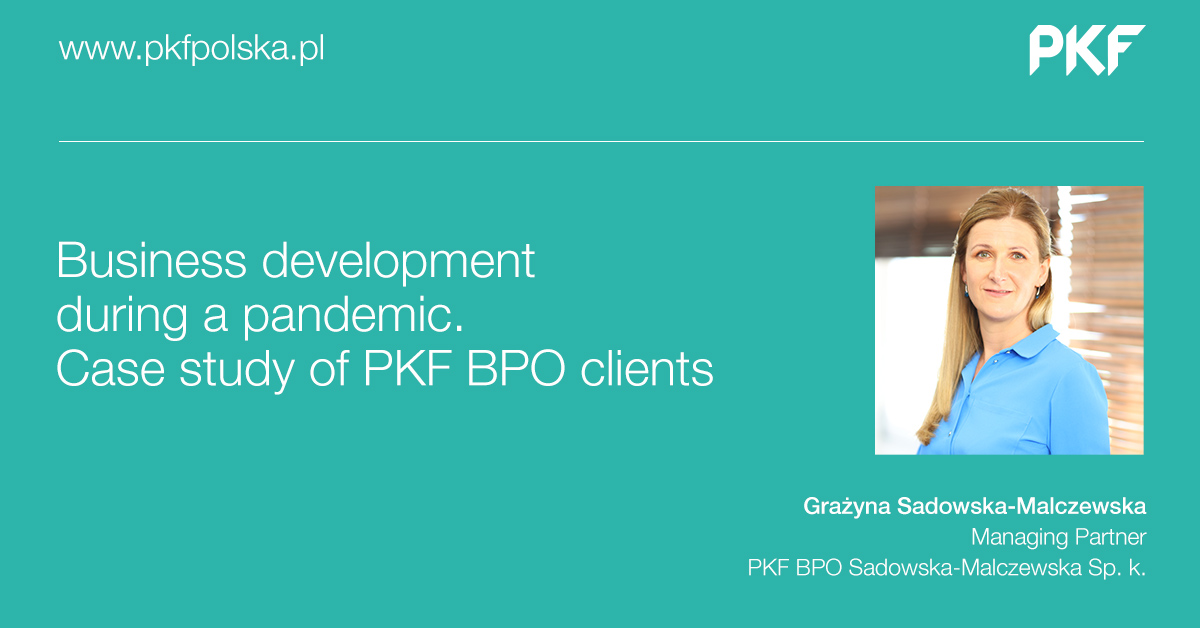 In times of market uncertainty, customers expect from their outsourcers not only support in fulfilling statutory obligations, but also substantive advice on running a business.
For many years, we have noticed an upward trend in the accounting, HR and payroll outsourcing industry. It is related, inter alia with greater customer needs than the statutory bookkeeping itself. Currently, with such a dynamically changing economy and legal regulations, the added value for the client is the combination of knowledge from various fields like financial accounting, legal regulations, human resources and payroll, finance, IT and the effective functioning of internal processes in companies.
Contemporary customers no longer expect only numbers in the form of a given amount of VAT payment or financial statements submitted for signature. They need appropriate management data delivered on time, advice and support in arranging internal processes to build a competitive advantage.
Clients need increased support
In the outsourcing of books, human resources and payroll as well as management accounting, the change in the form of work caused by the appearance of the coronavirus - both for outsourcing service providers and customers -has forced the implementation or getting used to using modern technologies, related for example to the exchange of documents and data.
Additionally, the frequently changing provisions were unclear, imprecise and often had no or very short vacatio legis (the period specified in the provisions of law between the publication of a legal act and its entry into force - editor's note). Even the anti-crisis shield regulations required accountants to read them literally overnight to be able to help and support their clients.
The pandemic also caused absenteeism, due to which clients needed increased support, also in new areas, e.g. audit regarding reliable bookkeeping and human resources and payroll, support in optimizing back office processes that changed as a result of the transition to remote or hybrid work, development of detailed scenario analyses related to the functioning of the company in times of peculiar economic and legal changes and ending with business consulting in a range wider than before.
Only in September 2021, inflation was 5.8% and the indicator continues to grow. In recent days, the Monetary Policy Council raised interest rates which influenced the changes in exchange rates. We can also observe a growing trend in employee salaries, which in June 2021 increased by 9.8% compared to the previous year. Economists warn against the phenomenon of stagflation. Work on introducing the New Deal is ongoing and so far we are not sure which of the provisions will be introduced. The unstable economic situation meant that clients saw the need for broader and more frequent business consulting.
How did we help our clients survive the pandemic?
One client from the logistics industry used our accounting, HR and payroll services before the pandemic. We regularly provided him with all the necessary financial and management data. The first lockdowns forced him to react faster to the changing economic situation, which e.g. by closing the borders, it was directly hitting his business. Therefore, we have developed a new management and controlling accounting system for him. In the first place, it required an audit of internal processes in the company that changed as a result of remote work. Then, a new management accounting system was developed, which at the same time forced changes in internal processes - in the applicable procedures and in the controlling system. All activities were aimed at providing the client with management data in a short time so that he could dynamically make decisions and not expose his company to, for example, loss of financial liquidity.
A year ago we were approached by a client from the e-commerce industry, who, as a result of numerous absences, had arrears in many departments - including accounting. Because the e-commerce industry experienced its boom, every absence of an employee from work threatened the continuity of the company's operation. The situation began to get dramatic. The client, despite having funds, had long delays in settling payments. Suppliers threatened him with termination of contracts. There were delays in settlements with the Tax Office and ZUS. The duties of the absent employees had to be taken over by others, who worked overtime. The snowball effect has started. Frustrated employees began to submit their dismissals, and so the rest of employees had even more responsibilities, and other exhausted employees left.
Our first task was to recover backlogs in accounting and payroll, and conduct a system audit - to identify opportunities to increase efficiency in the company. Another - implementation of automation in order to reduce the amount of tedious tasks. In the case of such a dynamically developing e-commerce company, achieving this goal was a priority for the management board. Currently, the robotization implementation stage has been completed. However, we still support the accounting department by providing accounting supervision. At the same time, the last stage of implementing the new management accounting and controlling system is underway.
Building a competitive advantage together
Recently, many clients have come to us with doubts about the reliability of the books and payroll calculations. They began to analyze their financial data in detail - due to the pandemic and the sudden change in the economic situation in which they found themselves. In many cases, they found them incomprehensible. It happens that the accountants themselves cannot explain the differences in the data provided. The reasons for this situation are different. They result from employee absenteeism (causing chaos in the company), frequent changes and the fact that these data are now analyzed in more detail by owners and management boards. In such situations, we first identify irregularities, correct books and tax settlements (sometimes even from several years). Then we organize the work of accounting departments anew, and take over the keeping of books, human resources and payroll in the company.
The main role of the outsourcer is to support the client in his business. In the case of outsourcing of books, human resources and payroll as well as management accounting, we not only relieve the client from fulfilling statutory obligations. Above all, we are a partner who supports him in developing his business in such a way that he can focus on building his competitive advantage.
Contact with Us
PKF News
News, alerts, and events - Useful, last-minute information.
Wypełnienie pola oznacza wyrażenie zgody na otrzymywanie komunikacji marketingowej. Administratorem danych jest PKF Consult Sp. z o.o. Sp. k. ... więcej
Dane będą przetwarzane w celu kierowania komunikacji marketingowej promującej usługi podmiotów z Grupy PKF Consult. Więcej informacji na temat przetwarzania danych osobowych, w tym przysługujących Pani/Panu prawach oraz dane kontaktowe Administratora znajduje się tutaj
Thank you for your trust! Your address has been saved in our database.