Automatic saving of verification from contractors! So you could always present them to the tax authorities!
We dedicate a tool to you, thanks to which it is possible to automatically verify the credibility of contractors on the website of the Ministry of Finance in the white list of taxpayers and to verify the status of an active VAT taxpayer!
Taxpayer Verifier is a simple and intuitive tool based on one of the most popular reporting tool, i.e. Microsoft Excel. Thanks to it, you will be able to fully automate the bulk verification of contractors in the white list of taxpayers and the status of active VAT payer, which are currently available on the website of the Ministry of Finance and require manual checks.
https://www.podatki.gov.pl/wykaz-podatnikow-vat-wyszukiwarka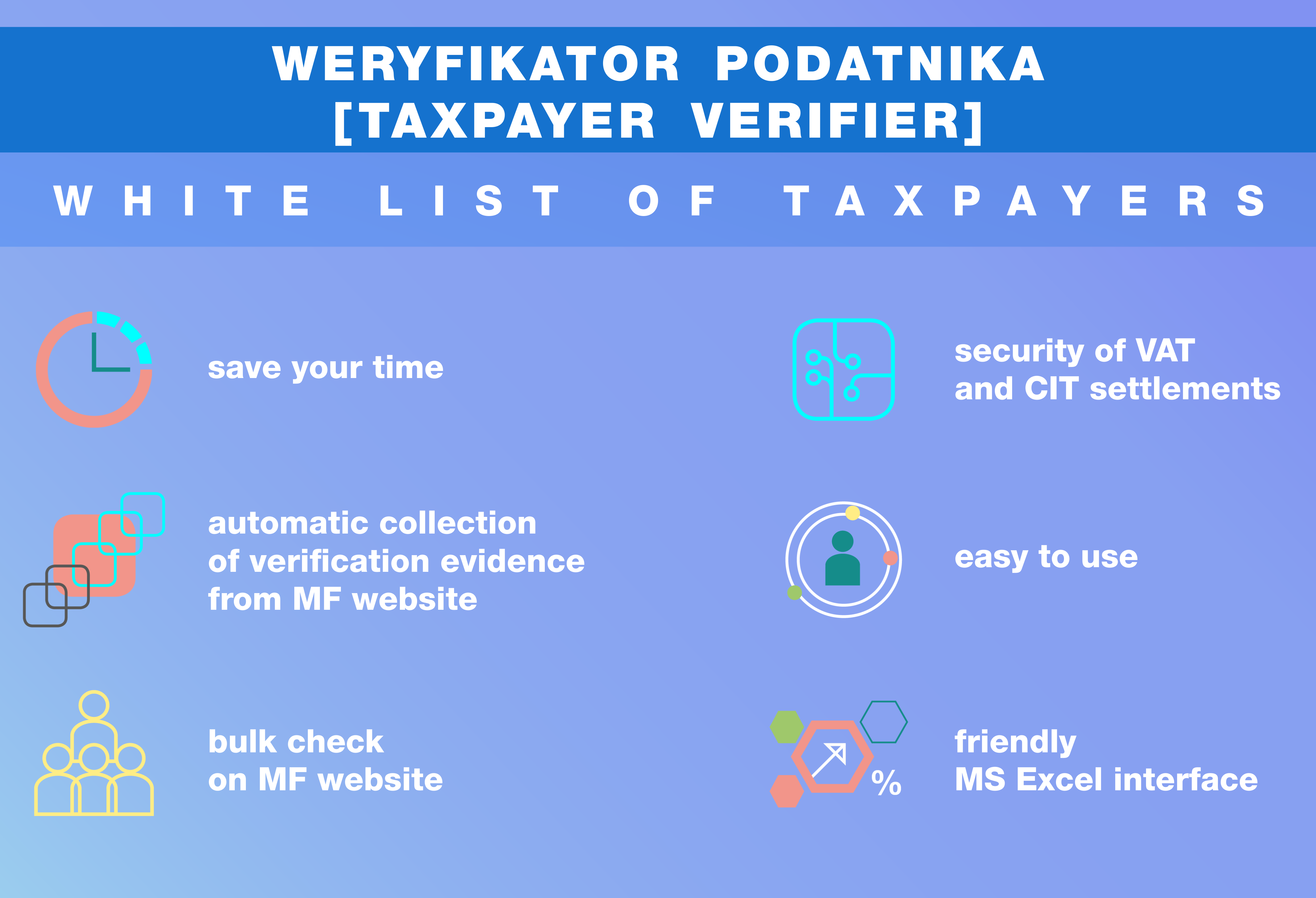 Technical requirements:

Internet access,
Windows 10 (or higher),
Microsoft Office Excel 2010 (or higher) license.
The Taxpayer Verifier provides the necessary information about the status of the VAT payer and the bank accounts of the entities and companies with whom you cooperate, in the form of clear and easy statement with the Excel interface.
The tool provides information on the taxpayer's VAT status in an intuitive way in the form of a statement and verifies his bank accounts.
Taxpayer Verifier allows you to automatically collect reports downloaded from the website of the Ministry of Finance from your verifications. Thanks to this functionality, you will be sure that in the case of a call from the Tax Authorities, you will prove the validity of your settlement in an easy and quick way.
Thanks to the Excel interface that the Taxpayer Verifier has, you will be able to easily supply the tool with the data of your contractors (e.g. from the financial and accounting system). Similar to the website of the Ministry of Finance, the tool has the functionality of performing verification on a given day.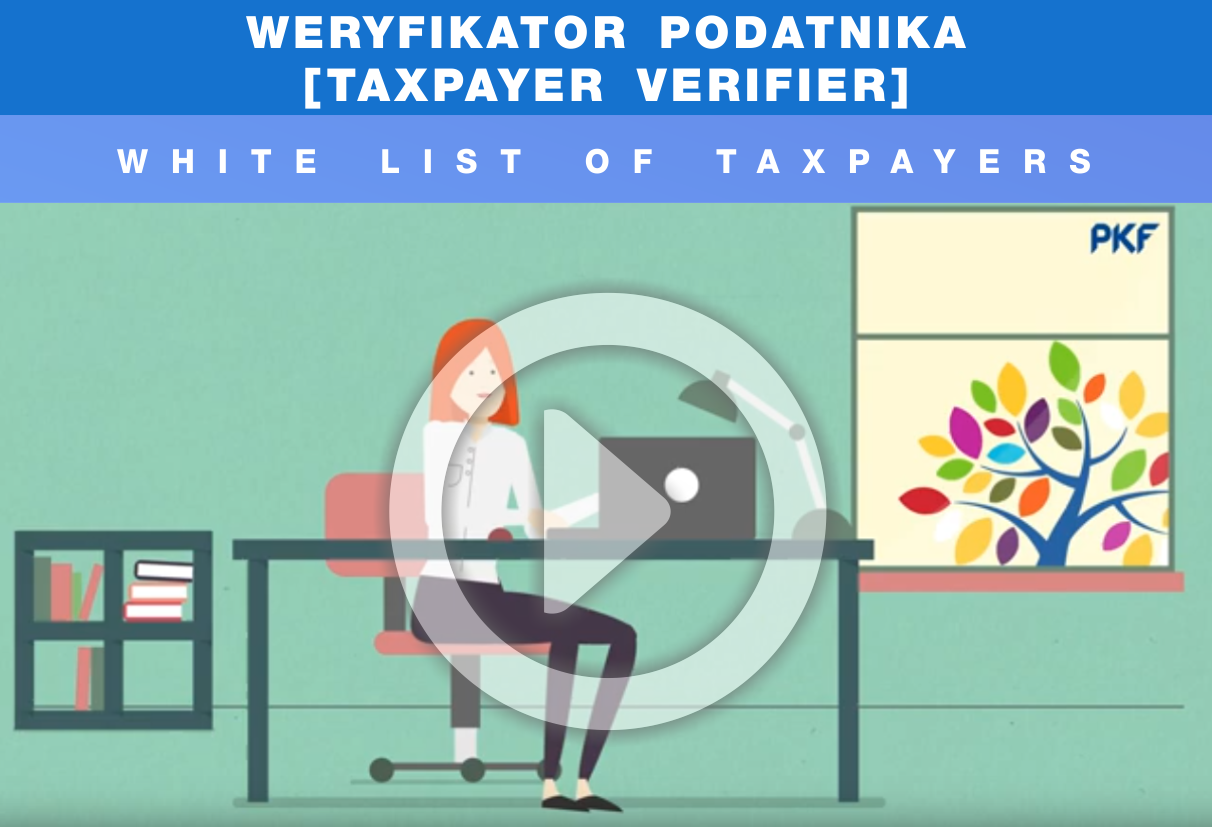 Contact with Us
PKF News
News, alerts, and events - Useful, last-minute information.
Administratorem Pani/Pana danych osobowych, w zależności od przedmiotu zapytania ofertowego, będzie PKF Consult Sp. z o.o. Sp. k., PKF BPO Sadowska – Malczewska Sp. z o.o. Sp. k., PKF Tax&Legal Chamera Orczykowski Sp. k. lub Consult Sp. z o.o., wszystkie z siedzibą przy ul. Orzyckiej 6/1B, 02-695 Warszawa. Pani / Pana dane będą przetwarzane w celu obsługi zapytania ofertowego stanowiącego przedmiot uzupełnionego formularza. Uzupełnienie informacji oznaczonych jako fakultatywne stanowi zgodę na przetwarzanie Pani / Pana danych osobowych, wyrażoną poprzez jednoznaczną czynność potwierdzającą. Zgodę można wycofać w dowolnym czasie. Wycofanie zgody nie wpływa na zgodność z prawem przetwarzania dokonanego przed jej wycofaniem. Dla celów dowodowych Administrator prosi o wycofywanie zgody drogą pisemną na adres siedziby Spółki lub elektroniczną pod adres iod@pkfpolska.pl.Więcej informacji na temat przetwarzania danych osobowych, w tym o przysługujących Pani / Panu prawach oraz o danych kontaktowych Administratorów, znajduje się w naszej Polityce Prywatności.
Thank you for your trust! Your address has been saved in our database.>
Why PKF?
6
Place among the best audit companies on the Polish market in the 'Rzeczpospolita' ranking